Gina McCarthy: RGGI states spearhead US clean energy transition | Only the strong will survive as European wind costs fall, says Enel CEO | Clean energy makes good business sense, WWF exec says
Web Version
| | |
| --- | --- |
| News for wind power professionals and advocates | |
Gina McCarthy: RGGI states spearhead US clean energy transition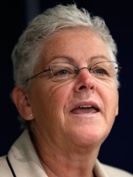 McCarthy (Win McNamee/Getty Images)
States in the bipartisan Regional Greenhouse Gas Initiative are spearheading the US transition to a clean energy economy and proving that it can be done without sacrificing economic growth, writes former Environmental Protection Agency Administrator Gina McCarthy. "As this agreement shows, just because the administration in Washington is asleep when it comes to climate change and clean energy, it doesn't mean the United States is asleep," she writes.
The Boston Globe (tiered subscription model)
(9/18)
Only the strong will survive as European wind costs fall, says Enel CEO
Falling wind costs are making it possible for developers to build projects without government support, but only those with diverse portfolios and ample resources will be able to compete in those markets, said Enel General Manager and CEO Francesco Starace. "You need to have a diversified portfolio, you need to be able to say, 'No I don't like this project, I have another three coming,' " he said.
Bloomberg
(9/19)
Clean energy makes good business sense, WWF exec says

(Morten Juhl/AFP/Getty Images)
National governments could help corporations transition to buying more renewable energy in international markets by issuing tougher targets aligned with the Paris Agreement, writes Dymphna van der Lans, senior director of international corporate engagement at the World Wildlife Fund. "It's crucial governments leverage the formidable purchasing power of businesses and spur the growth of renewable energy in these markets," she writes.
GreenBiz
(9/18)
A Complete Guide to Pricing Your IT Services
Should you be charging more (or less)? Answers to questions like these start with understanding your overhead burden. See how to calculate it and use the result to ensure you're charging the right price for your IT services. Download your free eBook now!
Triton taps MHI Vestas machines for UK offshore wind farm
Triton Knoll will feature 90 9.5-megawatt turbines from MHI Vestas at its proposed offshore wind farm in the UK North Sea, according to the companies. Triton has yet to make a final investment decision on the project, but is expected to do so in 2018.
Reuters
(9/18)
Reducing Risk and Increasing Flexibility for the Mobile Enterprise
Mobile devices and BYOD have brought unprecedented agility to the enterprises, but with it comes new security concerns. Read this short whitepaper to learn what over 200 senior security executives had to say about the top risks and trends in data security, as well as how to overcome them.
N.D.'s diverse energy portfolio attracts investors
North Dakota is one of the largest and most diverse energy-producing states in the US, and its potential for growth is creating interest among wind, natural gas and other energy developers. "There is a ton of interest from developers and from utilities to continue to see that industry grow," said Wind on the Wires Regional Policy Manager Chris Kunkle, adding the firms would continue to build projects in the state as long as it maintains agreeable policies.
The Forum (Fargo, N.D.-Moorhead, Minn.)
(9/18)
Total plots renewables growth with EREN, GreenFlex buys
Total is expanding its foothold in the renewable energy industry with plans to acquire a 23.5% interest in wind and solar firm EREN and to buy energy-efficiency group GreenFlex, said the company. "EREN RE's momentum will allow us to accelerate our growth in solar energy and move us into the wind power market," said President of Gas, Renewables & Power and President of Strategy-Innovation Philippe Sauquet.
Reuters
(9/19)
Making the Most of Parcel Boundary Data
For a growing list of industries, the importance and widening use of parcel boundary and property data continues to grow. Thankfully, alternatives to traditional parcel acquisition efforts are now available through cost-effective and ready to use solutions. Read our guide to smart decision-making using parcel boundary data
R.I. town considers pros, cons of wind leases
The Hopkinton, R.I., Town Council in met Monday to discuss how the town could allow local farmers to hold land leases and gain revenue from turbines without leading to the proliferation of the machines in their community. Conservation Commission Chairman Harvey Buford said one option would be to allow a limited number of turbines on several farms instead of outright banning wind development.
The Westerly Sun (R.I.)
(9/19)
Wall Street Journal: Rural America embraces wind power
The Wall Street Journal has a new feature story out, and it focuses on Benton County, Ind. If that sounds familiar it's because the town of Fowler, site of #AmericanWindWeek's Fowler Wind Fair, lies in Benton County.
Read more.
Optimism is the faith that leads to achievement.
Helen Keller,
writer and activist
These stories were selected and summarized by independent editors at SmartBrief Inc., not by AWEA's staff, and do not represent AWEA positions. They reflect the variety of daily coverage of American wind power.