AWEA: US added 7,017 MW of new wind capacity in 2017 | Texas led states in new wind capacity in Q4 2017, says AWEA | Analysis: Next 5 years critical for US offshore wind growth
 |  Web Version
| | |
| --- | --- |
| News for wind power professionals and advocates | |
AWEA: US added 7,017 MW of new wind capacity in 2017
Building new US wind farms attracted $11 billion of private investment in 2017, and the US added 7,017 megawatts of new installed wind capacity bringing the national total to 89,077 MW, according to the American Wind Energy Association. "Building new wind farms keeps American factory and construction workers busy while breathing new life into farming and ranching communities," said CEO Tom Kiernan.
North American Windpower online
(1/30),
S&P Global Platts
(1/30)
Texas led states in new wind capacity in Q4 2017, says AWEA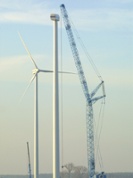 (Sean Gallup/Getty Images)
A total of 29 new wind farms with a combined capacity of 4,125 megawatts came online in the fourth quarter of 2017, and Texas led the pack with 1,179 MW worth of new projects, the American Wind Energy Association said in a report. Oklahoma is now second to Texas in terms of total installed wind capacity, with 7,495 MW, AWEA said.
Houston Chronicle (tiered subscription model)
(1/30),
The Oklahoman (Oklahoma City)
(1/31)
Analysis: Next 5 years critical for US offshore wind growth
The next five years will be critical in the long-term emergence of the US offshore wind industry as state efforts and projects from firms such as Statoil and Orsted begin to take shape, writes Bobby Magill. "The Outer Continental Shelf's offshore wind potential is a tremendous asset and, now more than ever, we must use every tool at our disposal to ensure an energy-secure future -- one that promotes jobs and is affordable, competitive and safe," said Interior Department spokeswoman Heather Swift.
Bloomberg BNA (free content)
(1/29)
EES Gearbox Exchange Service
Lower gearbox exchange costs? EES' Gearbox Exchange Service for all Tier 1 platforms helped our customers cut costs up to 20% by reducing crane related costs and downtime. Use the experience we gained through more than 60 gearbox exchanges with our self- hoisting crane. Arrange your exchange now.
Bosnian utility seeks consultants for 48-MW wind farm
Bosnian utility ERS launched a tender on Tuesday to find consultants to help with the environmental and social scoping aspects of developing a 48-megawatt wind farm in the country, according to the company. The project is expected to feature 16 3-MW turbines.
Reuters
(1/30)
Carbon Trust unveils offshore wind turbine inspection competition winners
The Carbon Trust's competition to find novel technology for inspecting offshore wind turbines as part of its Offshore Wind Accelerator has ended, and the winners have been unveiled. OWA Foundations Working Area Project Manager Michael Stephenson said the competition highlighted a high degree of innovation in the industry and how much potential there is for technology from other sectors to be put into play for offshore wind.
North American Windpower online
(1/30)
Analysis: Wind is a practical way to meet science-based targets
Science-based emission-reduction targets are gaining traction among corporations, and many of the 40 firms that made such commitments in 2017 are expected to define exact goals in 2018 using the guidelines of the Science-Based Targets Initiative, according to a report from GreenBiz and Trucost. Cassandra Sweet writes that aggressive renewable energy expansion goals go hand-in-hand with science-based targets and that wind and solar are an effective and affordable way to curb emissions.
GreenBiz
(1/29)
Report: EU on track for 50% renewables by 2030
EU is on track to source 50% of its total electricity needs from renewables by 2030, according to research firms Sandbag and Agora Energiewende. The report said the EU now sources 30% of its electricity from renewables, up from 12% in 2000.
Quartz
(1/31)
N.Y. town board unanimously approves new wind regs
The Somerset, N.Y., Town Board unanimously approved zoning regulations that limit how tall wind turbines can be and where they can be located within the town. "The laws proposed tonight and more generally this month go well beyond what is reasonable or justified, and carry a very clear intent to wholly restrict any wind project from ever being built in Somerset," said Apex Clean Energy spokesman Taylor Quarles, whose company was planning a project in the area of up to 70 turbines.
Lockport Union-Sun & Journal (N.Y.)
(1/30)
Wind power closes 2017 strong, lifting the American economy
The US wind power industry closed 2017 strong, delivering 7,017 megawatts of new wind power capacity representing $11 billion in new private investment, according to the
US Wind Industry Fourth Quarter 2017 Market Report
, released today. Twenty-nine new wind farms totaling 4,125 MW came online across 16 states in the fourth quarter.
Read more.
Fear doesn't need doors and windows. It works from the inside.
Andrew Clements,
writer
These stories were selected and summarized by independent editors at SmartBrief Inc., not by AWEA's staff, and do not represent AWEA positions. They reflect the variety of daily coverage of American wind power.