---------- Forwarded message ----------
From: "Wind Energy SmartBrief" <
awea@smartbrief.com
>
Date: Feb 28, 2017 11:59 AM
Subject: Minn. leaders propose 50% by 2030 renewable energy goal
To: <
aquarianm@gmail.com
>
Cc:
EIA: More generating capacity added in 2016 than any other year since 2011 | Md. PSC to consider 2 offshore wind credit requests in March | Nordex wins turbine supply deal in US
Created for aquarianm@gmail.com |  Web Version
| | |
| --- | --- |
| News for wind power professionals and advocates | |
EIA: More generating capacity added in 2016 than any other year since 2011
The US added 27 gigawatts of new generating capacity in 2016, the most it's added since 2011, according to the Energy Information Agency. "Large amounts of new utility-scale wind capacity started entering the market in 2007 and have since averaged 7 GW per year," said the report, adding that 60% of all the new capacity added last year came from wind and solar.
FuelFix.com
(2/27)
Md. PSC to consider 2 offshore wind credit requests in March
The Maryland Public Service Commission has scheduled public hearings on March 25 and March 30 to review a pair of offshore wind renewable energy credit applications from US Wind and Deepwater Wind. US Wind is seeking approval for a 250-megawatt offshore wind project, while Deepwater is seeking support for its 120-MW Skipjack offshore wind farm.
ReNews.biz (U.K.)
(2/27)
Using Better Data to Drive an Increased Share of Wallet
Growth-oriented restaurant owners today are looking beyond the bottlenecks of POS solutions to access a cloud of smart apps that analyze data automatically and provide owners with access to cost-effective, best-of-breed, big data solutions. This report gives you an overview of recent trends that will help you save costs on inventory, lost productivity, and line speed. Download now.
Nordex wins turbine supply deal in US
Nordex has received an order to supply an undisclosed developer with 95 machines for a project in the US, according to the company. It added that the turbines will come from its 3-MW turbine series, which was designed for medium wind speeds.
ReNews.biz (U.K.)
(2/27)
Pattern launches 184.6-MW wind farm in Canada
Pattern Energy has launched its 184.6-megawatt Meikle project in British Columbia, Canada, featuring 61 General Electric machines. "Meikle Wind is now the largest wind facility in British Columbia, increasing the installed wind power capacity in the province by 37%," said President and CEO Mike Garland.
ReNews.biz (U.K.)
(2/27)
Wind is taking off in Wyo.'s neighboring states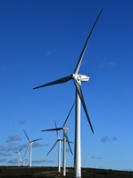 (Pascal Guyot/AFP/Getty Images)
While Wyoming's Legislature has been considering increasing the taxes placed on wind generation, Colorado, Montana, Idaho, Utah and Nebraska have been pursuing policies to support and encourage renewable energy development. Colorado, say observers, has increased its renewable energy standard twice to reach its current goal of 30% by 2020.
Wyoming Business Report
(2/27)
Analysis: Intermittency from variable renewables can be managed
Intermittency from variable renewable energy sources such as wind and solar can be managed through electrical grid updates and other tools, writes University of Houston energy professor Earl Ritchie. "In the majority of today's installations, variability can be balanced with so-called dispatchable generation: traditional power plants, hydroelectric and biomass," he writes.
Forbes
(2/27)
WindEurope: Wind supplied 100% of Denmark's total electricity last Wed.
A combination of land-based and offshore wind provided 100% of Denmark's total electricity needs for a period last Wednesday, according to WindEurope. Danish Wind Industry Association CEO Jan Hylleberg said the country had a slow year in 2016 in terms of wind production due to low wind speeds, but that 2017 is off to a great start.
Inhabitat
(2/27)
| | |
| --- | --- |
| Sponsored content from Carbonite | |
Minn. leaders propose 50% by 2030 renewable energy goal
Minnesota Lt. Gov. Tina Smith introduced a bipartisan a plan Monday that would increase the state's renewable energy standard from 25% by 2025 to 50% by 2030. "Today, because of bipartisan leadership and a sustained effort, more than 21% of Minnesota's electricity comes from renewable sources," said Smith.
Midwest Energy News
(2/27)
Analysis: Retail choice bills could spur wind growth in Kan., Neb.
Retail choice bills that would allow electricity customers in Nebraska and Kansas choose where their power comes from could encourage wind development, according to this analysis. Aksamit Resource Management partner and spokesman Michael Matherson, whose company supports the measure in Nebraska, said being a retail choice state is one reason Texas has such a successful wind industry.
Midwest Energy News
(2/28)
Fact Check: The electricity grid relies on diversified sources
Over the last two years, a parade of
Fortune 500
companies have made
substantial wind power purchases
, citing low cost and price stability as reasons why wind power is good for their bottom lines. However, some observers have recently misunderstood how these deals work.
Read more.
The most important thing in any relationship is not what you get but what you give.
Eleanor Roosevelt,
first lady, diplomat and activist
These stories were selected and summarized by independent editors at SmartBrief Inc., not by AWEA's staff, and do not represent AWEA positions. They reflect the variety of daily coverage of American wind power.