---------- Forwarded message ----------
From: "Wind Energy SmartBrief" <
awea@smartbrief.com
>
Date: Feb 8, 2017 12:05 PM
Subject: Vestas CEO: Global market for wind to remain stable in years to come
To: <
aquarianm@gmail.com
>
Cc:
Vestas CEO: Global market for wind to remain stable in years to come | Editorial: Wash. should require utilities to use more renewables | GE Renewable won more than 7 GW in turbine orders last year
Created for aquarianm@gmail.com |  Web Version
| | |
| --- | --- |
| News for wind power professionals and advocates | |
Vestas CEO: Global market for wind to remain stable in years to come
Vestas expects wind energy to maintain its competitiveness globally and sees the US market staying stable through "at least 2022," said Anders Runevad, group president and CEO of Vestas Wind Systems, adding that he doesn't expect the Trump administration to make any changes to the current wind energy Production Tax Credit. Runevad also said wind has become an established energy source and would continue to become more competitive on a global scale.
CNBC
(2/8)
Editorial: Wash. should require utilities to use more renewables
Washington lawmakers should pass the Clean Energy First Act, a bill that would require smaller utilities to source a greater share of their electrical generation from renewables, writes the editorial board of The Herald in Everett, Wash. "The advancements made in the affordability and reliability of renewable sources should provide the confidence to expand their use even further," it writes.
HeraldNet (Everett, Wash.)
(2/8)
GE Renewable won more than 7 GW in turbine orders last year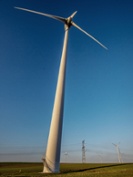 (Philippe Huguen/AFP/Getty Images)
GE Renewable Energy received turbine orders for more than 7 gigawatts of new installed wind capacity last year, according to the company. It added that it signed turbine supply deals in 19 countries last year and touted the importance of the US' strong market for wind.
ReNews.biz (U.K.)
(2/7)
Using Better Data to Drive an Increased Share of Wallet
Growth-oriented restaurant owners today are looking beyond the bottlenecks of POS solutions to access a cloud of smart apps that analyze data automatically and provide owners with access to cost-effective, best-of-breed, big data solutions. This report gives you an overview of recent trends that will help you save costs on inventory, lost productivity, and line speed. Download now.
Xcel Energy to launch Renewable Connect program this spring
Xcel Energy is preparing to roll out a new program in Minnesota this spring in which it will be able to directly sell renewable energy to businesses and consumers. The program, dubbed Renewable Connect, will source electricity from the 200-megawatt Odell Wind Farm in Minnesota and the North Star Solar Project.
Midwest Energy News
(2/8)
Canadian utility issues call to add 200 MW of wind to portfolio
SaskPower, a utility company from Saskatchewan, Canada, has issued a call to add up to 200 megawatts of installed wind capacity to its energy portfolio, according to the company. "The addition of wind projects will help us reach our goal of up to 50% of power from renewable sources by 2030," said Minister Responsible for SaskPower Gordon Wyant.
ReNews.biz (U.K.)
(2/8)
Why Bad Bosses Sabotage Their Teams
Ever been undermined at work? Here's what you can do. Learn more from research by Kellogg School of Management Professor Jon Maner.
Rethink your Cyber Security Framework
Today's motivated threat actors are consistently circumventing prevention-centric defense strategies. Learn how threat lifecycle management, an end-to-end detection and response workflow, is aligning SecOps with a new approach to cyber security. Download the white paper
| | |
| --- | --- |
| Sponsored content from DIRECTV for BUSINESS™ | |
Join WoWE in D.C. to take charge of our energy future
Women of Wind Energy is here to support a robust renewable energy economy, and is organizing a new event to take charge of our energy future.
Register now
for this important half day event. Join them in Washington, D.C. Feb. 14 to 15 to look ahead, build skills, lay out your action plan and find opportunities to network and collaborate.
Read more.
Never give in except to convictions of honor and good sense.
Winston Churchill,
statesman and prime minister
These stories were selected and summarized by independent editors at SmartBrief Inc., not by AWEA's staff, and do not represent AWEA positions. They reflect the variety of daily coverage of American wind power.