US mayors' coalition passes 100% renewables by 2035 resolution | Pattern scoops up 103-MW project in S.D. | N.D. state lawmaker forecasts more wind investments before 2020
|  Web Version
| | |
| --- | --- |
| News for wind power professionals and advocates | |
US mayors' coalition passes 100% renewables by 2035 resolution
The US Conference of Mayors, which represents 1,400 mayors nationwide, has advanced a resolution encouraging cities to aim for 100% renewables by 2035. Columbia, S.C., Mayor Steve Benjamin said the resolution is "a message to the entire world that America is still at the table and we support a vision at 100% clean and renewable energy."
BuzzFeed
(6/26)
Pattern scoops up 103-MW project in S.D.
Pattern Development has acquired Wind Quarry's 103-megawatt Willow Creek project in South Dakota, according to the companies. "We are thrilled to acquire our first wind project in South Dakota and look forward to working with Wind Quarry and the local community to develop the Willow Creek Project, creating jobs, economic spending and a new source of energy in Butte County," said Pattern Energy President and CEO Mike Garland.
ReNews (UK)
(6/26)
N.D. state lawmaker forecasts more wind investments before 2020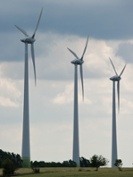 (John MacDougall/AFP/Getty Images)
North Dakota has seen an increase in wind and transmission projects under the wind energy Production Tax Credit and more wind-related investments will likely take place before the credit expires in 2020, said state Rep. Mike Brandenburg. NextEra Energy is seeking approval for its Emmons-Logan Wind Energy Center in the state, which could feature up to 133 turbines and has a power purchase agreement with an electrical cooperative in Minnesota.
The Forum (Fargo, N.D.-Moorhead, Minn.)
(6/26)
Aruban utility plans microgrid to boost renewable energy integration
WEB Aruba, a provider of water and electricity on the Caribbean island of Aruba, will use a microgrid from Swiss grid firm ABB to integrate more wind and solar capacity, according to the company. "This innovative microgrid solution will support the island of WEB Aruba to integrate more renewables and maintain reliability and efficiency of power supplies to meet increasing demand for electricity," said ABB Managing Director of Grid Automation Massimo Danieli.
ReNews (UK)
(6/27)
Energy Dept., NOAA researchers work to improve wind forecasting
Researchers from the Energy Department and National Oceanic and Atmospheric Administration recently wrapped up a wind forecasting project in the 80-mile Columbia River Gorge between Washington and Oregon. Energy Department Meteorologist Joel Cline said that the team hopes to use the data to develop a computer model capable of accurately forecasting daily wind speeds anywhere in the country.
ClimateWire
(6/26)
Larger offshore turbines will reduce need for government support, firms say
The offshore wind industry's need for government support mechanisms will dwindle as turbines increase in size, getting both taller and more efficient, said Dong Energy, EnBW and Vattenfall in an interview with Reuters. Executives from all three firms said they're working on taller, higher capacity megaturbine prototypes, including one from Dong that could fall in the range of 13 to 15 megawatts.
Reuters
(6/27)
Renewables help mining firms boost revenue, says expert
Mining firms in Canada and across North America are generating new revenue by repurposing old sites for wind and solar generation, said Ernst & Young Western Canada Market Leader Meghan Harris-Ngae. "There's a huge opportunity to reduce greenhouse gas emissions and also offset greenhouse gas emissions both for business, but also within a province," she said.
CBC News (Canada)
(6/27)
US can become a global leader in energy production, says Perry
The US could become a global leader in energy production under the Trump administration, said Energy Secretary Rick Perry, adding that the government plans to prioritize clean energy as well as fossil fuels. "An energy-dominant America will export to markets around the world, increasing our global leadership and influence," he said.
The Hill
(6/26)
May cooler heads prevail in debate over renewables' role in providing clean electricity
While articles in the academic journal Proceedings of the National Academy of Sciences don't often provoke bitter fights on the pages of major newspapers, that was the case for an academic study about renewable energy published last week.
Read more.
Criticism is so often nothing more than the eye garrulously denouncing the shape of the peephole that gives access to hidden treasure.
Djuna Barnes,
writer and artist
These stories were selected and summarized by independent editors at SmartBrief Inc., not by AWEA's staff, and do not represent AWEA positions. They reflect the variety of daily coverage of American wind power.