Opinion: Engagement key to overcoming public opposition | Bay State, Southcoast Health enter MoU for offshore wind PPA | Calif., Denmark sign deal to grow offshore wind industry
Created for aquarianm@gmail.com |  Web Version
| | |
| --- | --- |
| News for wind power professionals and advocates | |
Opinion: Engagement key to overcoming public opposition
Community opposition has the power to delay or stop wind farms from advancing, but many issues can be overcome through engagement, coordination and cooperation with local entities, write Jeremy Firestone of the University of Delaware and the Lawrence Berkeley National Laboratory's Ben Hoen and Joseph Rand. "Local ownership and financial benefits may help sway nearby residents who would otherwise object to a new wind farm," they write.
Bangor Daily News (Maine) (free registration)
(5/4)
Calif., Denmark sign deal to grow offshore wind industry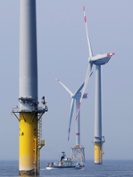 (Sean Gallup/Getty Images)
California has signed a new deal with Denmark through which the Danish Energy Agency will help the state develop its offshore wind industry, said California Energy Commission Commissioner Karen Douglas and Danish Energy, Supply and Climate Minister Lars Christian Lilleholt. "California's size and ambitions for renewable energy expansion make it a very exciting market," said Lilleholt.
ReNews (UK)
(5/4)
Untapped Energy
Wind energy development has grown dramatically. But there is more work to be done. The industry can and will have to produce even more energy from existing turbines to power a brighter future. Learn how.
Statoil, SSE ready 4.8-GW offshore wind farm for UK procurement round
Statoil and SSE are working to qualify their joint 4.8-gigawatt Dogger Bank offshore wind farm for Britain's contracts-for-difference procurement round in 2019, according to the companies. "The strategic importance of that project to the UK and Statoil can not be overestimated," said Statoil Executive Vice President Irene Rummelhoff.
Reuters
(5/4)
The Future of Wind Comes to Chicago
To celebrate WINDPOWER coming to the Windy City—our hometown—we're giving away a limited number of Chicago flag wind t-shirts. Click here and then stop by the Uptake booth (#3023) on Tuesday to claim it before they're gone.
Your Guide to Achieving IT Business Success
The IT Service Excellence Tool Kit, is your go-to guide for best practices that keep your clients happy and your business booming. Inside, you'll find everything you need to increase client satisfaction and retention, become more competitive, and increase your overall success. Get your copy!
Less downtime. More wind power.

Sponsored content from Uptake
Untapped Energy
Wind energy development has grown dramatically. But there is more work to be done. The industry can and will have to produce even more energy from existing turbines to power a brighter future. Learn how.
Click here to learn more about Featured Content
Basic safety training key for wind growth, says Global Wind CEO
The US is a key market for land-based and offshore wind growth, and future investors will need properly trained individuals with basic safety skills, said Jakob Lau Holst, CEO of the Global Wind Organization. Global Wind is an international nonprofit that evaluates and certifies sites offering wind-related training.
ReNews (UK)
(5/7)
Mich. utility plans $525M in "green bonds" for clean energy projects
Michigan utility DTE Energy has unveiled $525 million in funding for "green bonds" to help finance wind farms, solar projects and other renewable energy and clean energy projects, said the utility. "Green bonds will help finance our low-carbon investments, which will enable us to continue moving Michigan toward a cleaner, more sustainable energy future," said Chairman and CEO Gerry Anderson.
Daily Energy Insider
(5/3)
Optimize IT, reduce costs and complexity, and increase efficiency
Improve IT with policy-driven automation to increase efficiency by standardizing operating systems so they're easier to manage. Watch this video to learn how your IT organization can automatically balance workloads, simplify management of workloads—both on-premise and in the public cloud.
The great man does not think beforehand of his words that they may be sincere, nor of his actions that they may be resolute -- he simply speaks and does what is right.
Mencius,
philosopher
These stories were selected and summarized by independent editors at SmartBrief Inc., not by AWEA's staff, and do not represent AWEA positions. They reflect the variety of daily coverage of American wind power.