Opinion: Offshore wind will benefit Mass. environment, economy | Mich. township wind ordinances block development, says utility | 300-MW wind farm in India to feature Senvion turbines
Created for aquarianm@gmail.com |  Web Version
| | |
| --- | --- |
| News for wind power professionals and advocates | |
Opinion: Offshore wind will benefit Mass. environment, economy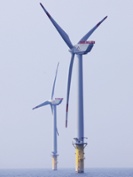 (Sean Gallup/Getty Images)
Massachusetts is preparing to unveil the winner of its offshore wind request for proposals, and all three proposals under consideration would bring huge economic and environmental benefits to the state, writes Dan Wolf, CEO and founder of Cape Air. "Offshore wind is our chance to combine our maritime traditions and our history of environmental stewardship to create thousands of well-paying jobs, while becoming a global leader in renewable energy," he writes.
Cape Cod Times (Mass.) (tiered subscription model)
(5/17)
Mich. township wind ordinances block development, says utility
Beaver Township, Mich., has adopted new ordinances for wind development that will prevent DTE Energy from moving forward with a wind farm in the area, said DTE Manager of Renewable Energy Development Matt Wagner. He said the company would explore other opportunities in Bay County, where it plans to erect 50 to 60 turbines.
MLive (Michigan)
(5/16)
Bring Your Blades Up to Peak Performance
EDF Renewables and 3M provide owners the opportunity to increase AEP with maximum performing, highly reliable and quick-to-install 3M™ Wind Vortex Generators. Vortex generators can increase AEP up to 3% and installation can pay for itself in 1-2 years! Install a VG pilot on your site.
Vestas acquires 40% in 353-MW wind farm in Sweden
Vestas has purchased a majority 40% interest in the 353-megawatt Blakliden/Fabodberget project in Sweden, which will feature 84 Vestas turbines, according to the company. Vattenfall and a Danish pension fund will each control a 30% stake.
ReNews (UK)
(5/16)
Project: SET THE PAGE FREE
Powered by an arsenal of apps, software and technology, 14 creative minds collaborate to tell the ultimate tale of the modern workplace. Get your personalized e-book, Speaking of Work, today -- a story of love, suspense and paperclips!
Nordex N133 4.8-MW turbine goes for TUV SUD certification
Nordex's N133 4.8-megawatt turbine model is preparing to undergo TUV SUD certification and pending approval, will hit the market next year. "Certification is aimed at confirming the quality of standard-conforming design and production and the wind turbine's power performance," said TUV SUD.
ReNews (UK)
(5/15)
Virtualization: See Performance Take Off
Your bottom line depends on having a highly available and resilient infrastructure. Look beyond today and scale to meet future challenges caused by evolving technology and business demands. Read our testimonials document to learn about 15 enterprise customers who are using Red Hat Virtualization to help their businesses. Download now.
Opinion: Clean energy is driving US economic, job growth
Clean energy is boosting the US economy and creating jobs in Nevada and other states, Heather Reams, managing director of Citizens for Responsible Energy Solutions, writes. "We need to work to maintain those advantages," she argues, applauding Sen. Dean Heller, R-Nev., and Rep. Mark Amodei, R-Nev., for their work representing Nevada's clean energy interests in the fiscal 2018 federal spending package.
Las Vegas Sun
(5/16)
No partisan divide on wind support, young Americans overwhelming in preferences
A
slew of surveys
across 2016 and 2017 found
Americans across the board
supported the
growth of wind energy
. Now we have our first evidence from 2018 that this support continues to increase, and that we have a true rarity in today's political environment coming into focus -- there is no meaningful partisan divide in the country's preference for wind.
Read more.
There are many things that seem impossible only so long as one does not attempt them.
Andre Gide,
author
These stories were selected and summarized by independent editors at SmartBrief Inc., not by AWEA's staff, and do not represent AWEA positions. They reflect the variety of daily coverage of American wind power.