---------- Forwarded message ----------
From: "Wind Energy SmartBrief" <
awea@smartbrief.com
>
Date: Dec 1, 2016 11:52 AM
Subject: Ohio governor: Optional RPS could send wrong signal on clean energy
To: <
aquarianm@gmail.com
>
Cc:
Report: Clean energy enjoys broad bipartisan support in US | IEA: World must update power market to facilitate wind development | Ore. OKs 399-MW Saddle Butte project
Created for aquarianm@gmail.com |  Web Version
| | |
| --- | --- |
| News for wind power professionals and advocates | |
IEA: World must update power market to facilitate wind development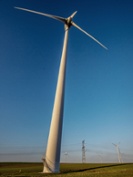 (Philippe Huguen/AFP/Getty Images)
Countries around the world must update their power market rules and structures to make the addition of more wind generation more feasible for the companies and utilities involved, according to the International Energy Agency. The agency said that renewables could account for 60% of all generation by 2040.
ReNews.biz (U.K.)
(12/1)
Northwestern University MS in Information Systems
The MS in Information Systems teaches the latest in information systems, emphasizing design, implementation and evaluation of software applications and theoretical models. Students choose one of seven specializations to complement professional experience and interests. Advance your IT career — learn online or part-time at our Chicago campus.
Solutions Brief: EU Privacy Shield Compliance
Having customers or employees in the EU requires you to have an approved EU Data Transfer mechanism in place. Those who previously relied on Safe Harbor for compliance now officially have a replacement with the new Privacy Shield Framework. This Solutions Brief provides a summary of each of the EU Data Transfer mechanisms, benefits & tradeoffs, case studies and solution options. Read the Brief now to Learn More
Get the news affecting entrepreneurs.
In the ever-changing business landscape, it's important to stay informed as an entrepreneur. With SmartBrief on Entrepreneurs, you can get daily updates on topics such as startup news, leadership and management insights, ideas for innovators, and more. Get your hand-picked news for entrepreneurs now.
What's the state of American wind power manufacturing?
Manufacturing may be a struggling part of the American economy, but not for the factories, workers and companies that build wind turbines. Over 500 factories build wind-related parts and materials in 43 states, making everything from major wind turbine components such as nacelles, blades, towers and gearboxes, to internal components like bearings, slip rings, fasteners and power converters.
Read more.
A remarkable wind power milestone for the Lone Star State
It didn't take long for the Lone Star State to set a new wind energy high water mark. Less than two weeks ago,
we reported
on new wind power records in Texas and the Midwest, and on Monday records were shattered again.
Read more.
I think we ought to read only the kind of books that wound and stab us. If the book we are reading doesn't wake us up with a blow on the head, what are we reading it for?
Franz Kafka,
writer
These stories were selected and summarized by independent editors at SmartBrief Inc., not by AWEA's staff, and do not represent AWEA positions. They reflect the variety of daily coverage of American wind power.